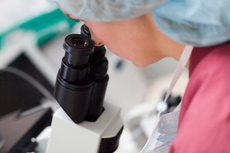 Testing Services
USP 797 guidelines provide a standard for all pharmacies that prepare and store compounded sterile preparations. Most pharmacies must comply with this regulation and many hospitals that operate pharmacies meeting the same criteria are also affected.
When compounding is conducted within a facility, a gap analysis should be performed in order to determine what the compliance action plan will be. In many cases, regular air as well as surface samples are necessary in order to analyze samples for any microbial contamination (i.e., fungal or bacterial presence whether viable or non-viable).
According to the USP 797 protocols, 'a critical area must prove to meet ISO 5 classification at least once per six-month period. The frequency of determining the cleanliness class of supporting areas is also at least once per six months as recommended by USP and/or whenever renovations occur'.
EMSL provides not only USP 797 testing services, but also offers all of the sampling supplies and equipment needed. The laboratory is staffed with PhD scientists and the industry's premier USP 797 experts.
Contact EMSL today for all of your USP 797 testing needs.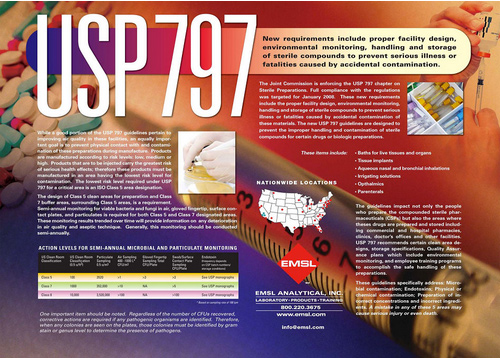 To request your complimentary USP 797 poster, please call 1-888-958-8170.